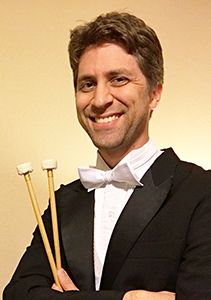 TIM MABREY - PERCUSSIONIST
Tim Mabrey first joined the West Texas Symphony as a member of the percussion section in 2008, and after several seasons with the orchestra was named Principal Timpani in 2014. In addition to his position with WTS, Tim is also Principal Percussion with the Central Texas Philharmonic and a percussionist with the Abilene Philharmonic. Tim has performed with various other groups including the Austin Symphony, San Antonio Symphony, and the Arkansas Symphony, and during summers at the Aspen Music Festival, Opera in the Ozarks, National Music Festival and Hot Springs Music Festival. 
Tim's major teachers include Alan Abel of the Philadelphia Orchestra, Joseph Tompkins of Rutgers University, and Christopher Deane of the University of North Texas.
Originally from Grapevine, Texas, Tim currently lives in Austin where he teaches middle and high school students and maintains an active freelancing career. When he is not playing the drums you can usually find him hiking in the mountains or going to the movies.