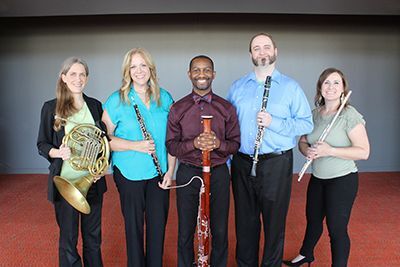 WEST TEXAS WINDS
Caryn Crutchfield, oboe
Chris Chance, clarinet
Sonja Millichamp, horn
Philip Hill, bassoon
Lyndsay Eiben, flute
As the resident woodwind quintet of the West Texas Symphony, the West Texas Winds are active throughout the year presenting audiences young and old with performances full of energy and refinement.
The ensemble has a significant repertoire of classic standard woodwind quintets and groundbreaking new music, having presented both U.S. and world-premiere performances by living composers from around the globe. Performing two full-scale recitals a year as well as educational concerts, informal luncheon recitals at the ClayDesta atrium, and other public and private engagements in the area, the West Texas Winds are always working to present something new and exciting to their listeners.
In addition to live performance, the West Texas Winds have begun presenting regular educational programs through live internet broadcast to Midland Montessori School, and have embarked on a YouTube project entitled "From the Archives," presenting recordings of the group's past recitals accompanied by commentary and discussion from the current members of the ensemble.
From avant-garde to timeless classics, from the concert hall to YouTube - a West Texas Winds performance is like no other.
Caryn Crutchfield

Caryn Crutchfield, oboe, is in her twenty-fifth season with the West Texas Symphony. She holds a Bachelor of Music degree and a Master of Music degree in Oboe Performance from West Texas A&M University in Canyon, TX where she studied with Robert Krause.

Caryn was privileged to be the guest soloist with the MOSC in 2012. She has performed at the Texas Music Educators' Association Convention on three occasions and with the WTAMU Director's Band at the Texas Bandmasters' Association Convention twice. She performs regularly as a member of the West Texas Winds woodwind quintet and teaches at The University of Texas, Permian Basin, Odessa College, and the West Texas A&M Band Camp. 

Caryn currently teaches private lessons to students throughout the Permian Basin and has a thriving reed making business. She is married to Kevin, a violinist in the West Texas Symphony, and has three children.

Chris Chance

Chris Chance enjoys a varied performing career as an orchestral clarinetist, chamber musician, and concert soloist. 

He has performed with orchestras across North America, including Arizona Opera, New Mexico Philharmonic, Ohio Light Opera, Columbus Indiana Philharmonic, Lubbock Symphony, and the Orquesta Sinfónica UANL of Monterrey, Mexico. Chris is currently Principal Clarinet of the Midland-Odessa Symphony, Principal Clarinet of the Missouri Symphony Orchestra, and clarinetist of the West Texas Winds woodwind quintet. In addition to live performance, he has also worked as a recording studio musician for the Hal Leonard Corporation. 

Chris received a Bachelor of Music degree, a Performer Diploma, and the Performer's Certificate from the Indiana University Jacobs School of Music.

Sonja K. Millichamp

Sonja K. Millichamp earned her Bachelor's degree in horn performance from the Cleveland Institute of Music and her Master's degree from the University of Illinois at Urbana-Champaign. During the summers she studied at the National Orchestral Institute in College Park, Maryland, and at the Pacific Music Festival in Sapporo, Japan. Prior to moving to West Texas, Sonja spent six years as the horn professor at Millikin University in Decatur, Illinois, where she also performed with the faculty woodwind quintet and served as Principal Horn of the Millikin-Decatur Symphony Orchestra. She was also Third Horn of the Champaign-Urbana Symphony and a member of the Prairie Ensemble, and spent several summers playing principal horn for Opera in the Ozarks. Other ensembles with which she has performed include the Abilene Philharmonic and the Amarillo, Lubbock, Arkansas, Illinois, and Peoria Symphonies.

Sonja is currently Co-Principal Horn of the West Texas Symphony, hornist of its wind quintet, the West Texas Winds, and Second Horn of the Missouri Symphony's Hot Summer Nights music festival.  She is also Co-Director of Music at the Unitarian-Universalist Church of Midland, where she enjoys performing as a vocalist.  Sonja is married to Co-Principal Hornist Scott Millichamp; together they enjoy working on their xeriscape garden and spending time in nature.

Philip Hill

Philip Hill is Principal Bassoon of the West Texas Symphony and Bassoonist of West Texas Winds. He earned his Master's degree in Music Performance at the University of Arizona. During his time at UArizona, he studied with William Dietz, was Principal Bassoon of the Arizona Symphony Orchestra, and was bassoonist in the Fred Fox Graduate Wind Quintet and the Saguaro Bassoon Ensembles. He earned his Bachelor's degree in Music Education at East Carolina University, where he studied the bassoon under Christopher Ulffers and was Principal Bassoon of the ECU Symphony Orchestra. He also performed at times with the ECU Opera, which is known for performing a wide variety of works from the standards of Mozart to world premieres. As part of the North Carolina New Music Initiative, Philip participated in many premieres, recordings, and new music projects. Most notable is his performance in the world premiere and recording of Travis Alford's Loose Strands for chamber wind ensemble. He also made an appearance with the North Carolina Symphony during his time in the Southeast. Philip toured Europe at age 17 as part of the Virginia Ambassadors of Music, then returned to Europe in 2017 as a member of the Prague Summer Nights Festival Orchestra, which performed in the famous Estates Theatre and the Rudolfinum in Prague, and the Mozarteum in Salzburg. Philip has also performed with the Bay View Chamber Music Festival and Opera in The Ozarks Orchestra. 

Despite his heavy performance regimen, Philip is active as an educator, holding a private teaching studio in the Permian Basin. He has been a resident artist at the University of Idaho, Youth Orchestras of Lubbock, and Midland Montessori School, and was adjunct faculty member of the University of Texas Permian Basin for six years, teaching chamber music and private bassoon lessons. His Instagram and YouTube pages, @Bassoonatlarge, include tutorials on reed making as well as music for TMEA auditions. Finally, he has been a frequent clinician throughout his various roles for auditions, rehearsals, and masterclasses, and has hosted masterclasses for TMEA audition preparation with the help of his great colleagues in the West Texas Symphony, Cassatt in the Basin, and other guests artists across the country.

Lyndsay Eiben

Dr. Lyndsay Eiben, flute, is the principal flute with the West Texas Symphony.

As a native of Odessa, Lyndsay has performed as a substitute flutist with the WTS for many years with her first appointment being while she was in high school.

Lyndsay studied music at West Texas A&M University where she received a Bachelor of Music Performance in 2008 and a Master of Music Performance in 2010. During her tenure at WTAMU, Lyndsay was Associate Principal of the Amarillo Symphony, Amarillo Opera and performed with the Amarillo Little Theatre. She also worked as a private flute instructor for the Canyon and Randall County Independent School Districts. In 2010, Lyndsay was accepted into the University of Cincinnati College-Conservatory of Music to pursue a doctorate in music. While in Ohio, Lyndsay performed with many professional groups such as Cincinnati Landmark Productions, the Showboat Majestic Theater, and the Covedale Center for Performing Arts. Lyndsay has also been a finalist for national flute competitions such as Myrna Brown and the National Flute Association Young Artist competition.

Lyndsay moved back to Odessa in August of 2013 to pursue a career in teaching band. She spent ten years teaching in ECISD at both Nimitz Middle School and Permian High School. Lyndsay's students have earned admission into the 6A TMEA All-State Bands and have earned superior ratings at solo and ensemble competitions. Lyndsay serves as Associate Director of Bands and Adjunct Director of Flute at the University of Texas Permian Basin. She holds professional memberships in the Texas Music Educators Association, Texas Bandmasters Association, and the National Flute Association.
---
Help support the West Texas Winds by becoming a "Friend". For just $25 you will assist with the purchase of concert music, guest artists and other expenses.