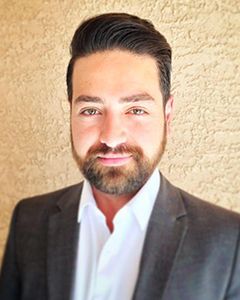 Dr. Juan Hernández
Interim Chorale Director
Dr. Juan Hernández currently serves as Director of Choral Activities and Director of Vocal Studies at Odessa College, where he conducts the A Cappella Choir and the Vocal Ensemble, teaches Music Appreciation, Voice, and Diction. He also serves as Music Director at Westminster Presbyterian Church of Odessa.
Prior to his appointment at Odessa College, Dr. Hernández served as Director of Choral Activities at the University of New Mexico, where he taught Conducting, Seminar in Choral Literature, and conducted the Concert Choir and University Chorus. Furthermore, he was Music Director at St. Paul's United Methodist Church of Albuquerque, and directed the Madrigal Singers of Albuquerque.
As Associate Instructor at Indiana University Jacobs School of Music, Dr. Hernández served as Assistant to the Chorus Master in several productions of the IU Opera & Ballet Theater, including Verdi's "La Traviata", Indiana University's premier of Glass' "Akhnaten", and the world premiere of Rands' "Vincent". He also assisted and conducted the Contemporary Vocal Ensemble (now NOTUS), the University Singers, the Symphony Choir, and the All-Campus Chorus. 
Dr. Hernández has over 20 years of conducting experience, and has performed a vast array of music genres, including popular and folk music of Latin America arranged for choir by himself and others, and major choral-orchestral works of different eras. In his home country, Colombia, he founded several choral ensembles, and participated with Bocca Chiusa Grupo Vocal in the 3rd version of the Choir Games, winning silver and bronze medals in the categories Popular Vocal Music and Folklore A Cappella, respectively. Dr. Hernández conducted the middle-school choir at Colegio Hacienda los Alcaparros in Bogotá, and taught music theory, piano, and conducted the adult, children's, and parents' choruses from the Fundación Orquesta Sinfónica Juvenil de Colombia. 
Dr. Hernández holds Doctor of Music and Master of Music in Choral Conducting from Indiana University Jacobs School of Music, as well as Bachelor of Music from Los Andes University in Choral Conducting. His conducting professors and mentors include Robert Porco, William Jon Gray, Dominick DiOrio, Walter Huff, Richard Tang Yuk, Betsy Burleigh, Carmen-Helena Téllez, Manuel Cubides Greiffeinstein, and Werner Pfaff.