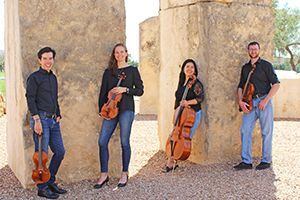 PERMIAN BASIN STRING QUARTET
Alejandro Gómez Guillén - violin
Sarah Cranor - violin
Conrad Sclar - viola
Suyeon Kim - cello
Described by the Odessa American as "a precise and authoritative sound" the Permian Basin String Quartet (PBSQ) is the resident quartet of the West Texas Symphony and is comprised of the principal string players of the orchestra. The quartet members have developed a loyal audience and a reputation as a leading ensemble in the Permian Basin. The PBSQ has made recent appearances in Midland, Odessa, Abilene, Alpine, San Angelo, Big Spring, Lubbock, and Hobbs, NM. In 2015, the PBSQ was the featured guest artist on the Abilene Christian University (ACU) Tour as the soloists on Short Stories by Joel Puckett as well as gave the Texas premiers of several works by ACU visiting composer Hyunjoo Lee. In 2013 the PBSQ appeared in the Abilene Philharmonic Nocturne series as well as the Church of the Heavenly Rest Chamber series. The PBSQ frequently appears with the San Angelo State University Choir, has given masterclasses in Mexico and Lubbock, TX as well as appeared with Chamber Music Amarillo. In addition to performance, the PBSQ is very dedicated to music education. The PBSQ gives educational concerts at elementary schools in the Permian Basin throughout the year. In addition, the PBSQ serves as section coaches for several high school orchestras in the Permian Basin as well as the University of Texas-Permian Basin (UTPB) University Orchestra. The PBSQ has also partnered with UTPB as the faculty for the All-Region Summer Workshop as well as the Hartwick College Summer Festival in Oneonta, NY. Members of the PBSQ are on faculty at UTPB, ACU, Midland College and Odessa College as well as maintain private studios.
For more information about the quartet, educational programs, and schedule, please visit their Facebook Page 
Alejandro Gómez Guillén

Conductor and violinist Alejandro Gómez Guillén is entering his fifth season as Artistic Director and Conductor of Bloomington Symphony Orchestra. Following a successful tenure as Associate Conductor of Fort Worth Symphony Orchestra, he is also Artistic Director of Denver's Sphere Ensemble, Acting Concertmaster / Principal Second Violin of Midland-Odessa Symphony & Chorale and member of the Permian Basin String Quartet. Alejandro also served as Freeman Conducting Fellow with Chicago Sinfonietta, Associate Conductor of Boulder Symphony and as Music Director of Cantabile.

Recent and upcoming activities include performances with the Chicago Sinfonietta, through the Orquesta Filarmónica de Bogotá, Midland-Odessa Symphony & Chorale, SingFest Hong Kong, Bogotá's Javeriana University, Bloomington Bach Cantata Project, Midland Festival Ballet, Oregon Bach Festival Masterclass in Conducting, Weimarer Bachkantaten Akademie, ¡Canta, Bogotá Canta!, Santander Choral Festival, Cabrillo Festival with Marin Alsop, Tonos del Sur at Berkeley Festival, Permian Basin Opera, as well as a fellowship with SphinxConnect, and a residency in his native Colombia with Batuta.

Committed to working with young artists, Alejandro has served as Assistant Professor of Music at Colorado Mesa University where he taught violin, viola, courses in symphonic literature, string pedagogy and chamber music, as well as conducting the chamber and symphony orchestras. He served as Music Director of the Colorado Youth Philharmonia and has led performances with Off Broadway School of Fine Arts in Boulder, Javeriana University Symphony Orchestra, Spokane Youth Symphony, as well as University of Colorado Symphony and Chamber Orchestras.

An accomplished violinist on both modern and baroque instruments, Alejandro leads Mozart and Haydn concertos from the violin recent and upcoming seasons. He was concertmaster of Grand Junction Symphony Orchestra, Amherst Early Music Festival, and Junges Stuttgarter Bach Ensemble, with which he toured Germany and Italy including performances at Rheingau Music Festival and Berlin Philharmonie. He recently returned to Oregon Bach Festival as a member of the Berwick Academy for Historical Performance.

Alejandro's mentors include Gary Lewis, Helmuth Rilling, Matthew Halls, and Mei-Ann Chen. He holds DMA and MM degrees in conducting and violin performance from the University of Colorado at Boulder, as well as a BM in violin performance from Texas Christian University. His doctoral research includes a critical edition of Colombian composer Jorge Pinzón's violin concerto, and bringing selected dances from Bach's orchestral suites in their original form to developing orchestras through a historically informed approach to playing on modern instruments.

When not playing, leading ensembles or reveling in the music of Bach, Alejandro spends his time singing, hiking, and making music with his wife, violinist Sarah Elizabeth Cranor. 

Sarah Cranor

Violinist Sarah Elizabeth Cranor is passionate about the freedom of sonic possibilities found in both historical and contemporary music. She is acting Concertmaster / Principal Second Violin with the West Texas Symphony, a member of the Permian Basin String Quartet and the Chasqui Quartet, and performs with baroque ensembles across the greater Midwest region. Sarah directs Tonos del Sur: a historically-informed ensemble which explores the intersection of European music with the colonization of the Americas, whose aim is to bring music of lesser-known, anonymous, and indigenous composers, and music in indigenous languages to today's audiences.

Sarah's recent collaborative highlights include Tonos del Sur at the Bloomington Early Music Festival and the Berkeley Early Music Festival, co-direction of a production of La Púrpura de la Rosa with Nell Snaidas, Duo Anthracite performances in Colorado, Indiana, and Bogotá, Colombia, the Indianapolis Baroque Orchestra, Sphere Ensemble, Bourbon Baroque, Charlotte BachAkademie, and guest concertmaster of the Bloomington and Lafayette Symphony Orchestras. 

Recently released recordings include "The Colorful Telemann" with Indianapolis Baroque Orchestra for NAXOS Music, "Fair and Princely Branches: Music for the Jacobean Princes" with Renaissance violin band The Queen's Rebels, "Stay at Home for the Holidays" with Sphere Ensemble, and the world premiere of Kurt Vonnegut's Requiem with Voces Novae.

Sarah holds a Doctor of Music degree from Indiana University's Jacobs School of Music. Her doctoral research focuses on the music of Santiago Billoni, chapelmaster at the Durango Cathedral, Mexico, from 1749-1756. While at IU, she studied with Stanley Ritchie, Grigory Kalinovsky, and Mimi Zweig.

Sarah has presented guest lectures at Universidad Nacional Autónoma de México and at Indiana University, and she teaches violin students both locally and across the world, including in Colombia and Kenya. She performs regularly with her husband, violinist Alejandro Gómez Guillén both in string quartets and as Duo Anthracite, with a mix of repertoire for two treble instruments from Jean-Marie Leclair to Sven-David Sandström.

Sarah has fallen in love with long-distance running, after running several solo marathons during the pandemic. She is currently training for her next ultra-marathon race and is looking forward to seeing where her running shoes take her!

Conrad Sclar

Dr. Conrad Sclar is proud to be joining this season as the principal violist for the Midland-Odessa Symphony and Chorale, and the Permian Basin String Quartet. Conrad has performed chamber and orchestral music throughout the United States from the Front Range of Colorado to the East Coast. Recent international performances include Saarburg International Music Festival in Germany and Siena International Music Program in Italy.

Conrad regularly commissions and premieres new compositions, and has performed in the Pendulum New Music Series and National Sawdust performing arts organization and venue in Brooklyn. Summer festivals include the Aspen Music Festival, the Green Mountain Chamber Music Festival, and the Rocky Ridge Music Festival, studying with Dr. Cathy Carroll-Lees, Stephen Wyrczynski, Karen Ritscher, Rictor Noren, and Dr. Dan Sweaney.

Conrad received his Master's degree in 2017 from the Manhattan School of Music, studying with Karen Ritscher. While in Manhattan, he performed at St. John the Divine Cathedral, was awarded first prize in the Lillian Fuchs Chamber Competition, and played in multiple recitals, orchestral concerts, and operas. Conrad then went to the University of Colorado, where he served as a Viola Studio Graduate Assistant. He designed and taught viola technique class, taught lessons, and supported undergraduate theory courses. In 2020, he received his Doctor of Musical Arts degree, studying with Erika Eckert and Geri Walther.

Committed to excellence in the education of young musicians, Conrad is continually involved in the fields of teaching and learning. He is excited to be teaching courses and lessons at UTPB. He is a Member of the American Viola Society, the Association of String Teachers of America, and the Texas Music Educators Association. Conrad was also selected to present at the American Viola Society conference in the summer of 2020. 

When not performing, practicing, or teaching, Conrad also enjoys cooking, traveling, sailing, and spending time with family. His Grandparents, as residents of Midland in the 1950's and current residents of Houston, are excited to have more family in Texas. Conrad is looking forward to building a Viola Studio in his new home in West Texas!

Suyeon Kim

Currently active in West Texas, Suyeon Kim has been featured as a soloist, chamber artist, teacher, recording artist, and orchestral musician in the U.S. and South Korea.

Ms. Kim has performed on illustrious stages such as Walt Disney Concert Hall, the Broad Stage, Thayer Hall, Zipper Hall, Schoenberg Hall, and LACMA Brown Auditorium. She has been featured on KUSC Sunday's Live Emerging Artists Series and was the lead artist featured at V.I.P. Opening Gala of Los Angeles Fashion Week. Ms. Kim has collaborated with eminent musicians such as Quartor Ebene, Arnold Steinhardt, and Ronald Leonard. In 2015, Su recorded soundtracks for BBC's documentary Planet Earth II under Hans Zimmer. In addition, she performed in WDCH as a part of the Piatigorsky International Cello Festival 2016, sharing the stage with world-renown cellists such as Mischa Maisky, Thomas Demenga, Matt Haimovitz, Frans Helmerson, Giovanni Sollima, and many more.

Ms. Kim is a Doctoral of Musical Arts candidate at Texas Tech University where she studies with Jeffrey Lastrapes. She also holds a Master of Music from TTU. She obtained her Bachelor of Music and Artist Diploma degrees from the Colburn Conservatory of Music in Los Angeles where she studied with Ronald Leonard and achieved 2014 Colburn Teaching Fellowship under the guidance of Dr. Robert A. Duke.
---
Help support the Permian Basin String Quartet by becoming a "Friend". For just $25 you will assist with the purchase of concert music, guest artists and other expenses.