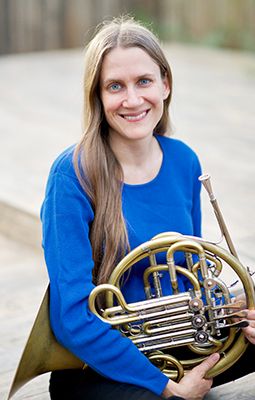 SONJA K. MILLICHAMP - HORN
Sonja K. Millichamp earned her Bachelor's degree in horn performance from the Cleveland Institute of Music and her Master's degree from the University of Illinois at Urbana-Champaign. During the summers she studied at the National Orchestral Institute in College Park, Maryland, and at the Pacific Music Festival in Sapporo, Japan. Prior to moving to West Texas, Sonja spent six years as the horn professor at Millikin University in Decatur, Illinois, where she also performed with the faculty woodwind quintet and served as Principal Horn of the Millikin-Decatur Symphony Orchestra. She was also Third Horn of the Champaign-Urbana Symphony and a member of the Prairie Ensemble, and spent several summers playing principal horn for Opera in the Ozarks. Other ensembles with which she has performed include the Abilene Philharmonic and the Amarillo, Lubbock, Arkansas, Illinois, and Peoria Symphonies.
Sonja is currently Co-Principal Horn of the West Texas Symphony, hornist of its wind quintet, the West Texas Winds, and Second Horn of the Missouri Symphony's Hot Summer Nights music festival.  She is also Co-Director of Music at the Unitarian-Universalist Church of Midland, where she enjoys performing as a vocalist.  Sonja is married to Co-Principal Hornist Scott Millichamp; together they enjoy working on their xeriscape garden and spending time in nature.