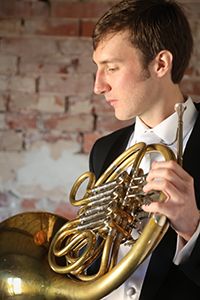 SCOTT MILLICHAMP - HORN
Scott Millichamp is Co-Principal Horn of the West Texas Symphony, hornist with the WTS Lone Star Brass quintet, Fourth Horn with Abilene Philharmonic, Principal Horn with the summertime Missouri Symphony Orchestra, and Co-Music Director at the Unitarian-Universalist Church of Midland. Scott also devotes time to composing music, and is the adjunct instructor of composition and horn at UTPB.
A native of Detroit, Scott graduated from Interlochen Arts Academy with a Fine Arts Award in Horn and received his Bachelor and Master degrees in Horn Performance from Indiana University. Following his time at IU, he served concurrently as a Graduate Teaching Assistant in Composition at the University of Hawaii in Manoa, a substitute hornist with the Honolulu Symphony Orchestra, pianist for Honolulu Waldorf School eurythmics classes, and Choir Accompanist for First Unitarian-Universalist Church of Honolulu. Prior to his MOSC appointment in 2009, he served as Fourth Horn of the Arkansas Symphony Orchestra; he also performed with the Lyrique-en-Mer opera festival on Belle-Ile, France in 2008 and 2010, with Arkansas's Opera in the Ozarks festival from 2009-2011, and with the Glimmerglass Festival in 2023.  In 2015 he performed Richard Strauss's Horn Concerto No. 1 with Gary Lewis and the West Texas Symphony.
For more information visit www.scottmillichamp.com.