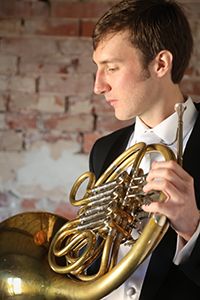 SCOTT MILLICHAMP - HORN
Scott Millichamp is Co-Principal Horn of the West Texas Symphony, hornist with the WTS Lone Star Brass quintet, Fourth Horn with Abilene Philharmonic, Fourth Horn with Lubbock Symphony, Principal Horn with the summertime Missouri Symphony Orchestra, and Co-Music Director at the Unitarian-Universalist Church of Midland. Scott also devotes time to composing music.
A native of Detroit, Scott graduated from Interlochen Arts Academy with a Fine Arts Award in Horn and received his Bachelor and Master degrees in Horn Performance from Indiana University. Following his time at IU, he served concurrently as a Graduate Teaching Assistant in Composition at the University of Hawaii in Manoa, a substitute hornist with the Honolulu Symphony Orchestra, pianist for Honolulu Waldorf School eurythmics classes, and Choir Accompanist for First Unitarian-Universalist Church of Honolulu. Prior to his MOSC appointment in 2009, he served as Fourth Horn of the Arkansas Symphony Orchestra; he has also performed with Arkansas's Opera in the Ozarks festival and the Lyrique-en-Mer opera festival on Belle-Ile, France. In 2015 he performed Richard Strauss's Horn Concerto No. 1 with the West Texas Symphony.
For more information visit www.scottmillichamp.com.