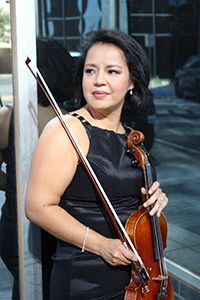 ROMINA DIMOCK - CONCERTMASTER
Native from Honduras, Romina G. Dimock has a vast experience in multiple musical and education fields. As a violinist, Dimock has served in several professional orchestras in Honduras, Guatemala, and Texas. She was a member of The National Symphony of Honduras for 7 years, The Amarillo Symphony, the Laredo Philharmonic Orchestra, and lastly a proud member of the West Texas Symphony & Chorale since 2019.
Texan cities such as Canyon, Laredo, Odessa, and now Midland have been the platform to expand her horizons in Orchestra and Violin Teaching with a successful record of UIL sweepstakes and excellence in various schools in Odessa and Midland such as: Wilson & Young MS, Odessa HS, and Young Women's Leadership Academy of Midland.
Mrs. Dimock holds two bachelor degrees from the National University of Honduras in Music Performance and Foreign Languages, which encouraged her to apply for scholarships to West Texas A&M University in Canyon, Texas. She successfully completed two master degrees in Music Performance and Interdisciplinary Studies, along with a String Quartet certificate from WTAMU. In 2021, Romina was appointed Violin adjunct professor at the University of Texas of the Permian Basin. Now she is extremely honored and privileged to serve as the new Concertmaster of the West Texas Symphony for the 23-24 Season.
As a new era for Romina, she is determined to provide musical excellence to this wonderful community by performing recitals as a member of  the Permian Basin String Quartet and as a soloist, as well as opening a violin studio to new and experienced students. In her spare time Romina loves learning about the culinary arts, traveling to Honduras to visit family, and spending time with her Husband Jonathan, her son Joselo, and her two furry daughters Bella and Cici.