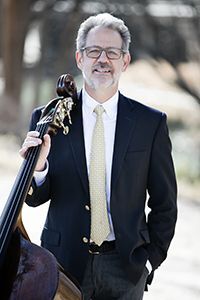 MARK MORTON - BASS
West Texas Symphony Principal Bass, Mark Morton is the Professor of Double Bass at Texas Tech University. For 23 years, he was a member of the Columbus (Ohio) Symphony Orchestra – 14 years as principal bass and 9 years as assistant principal bass. Additionally he is principal bass of the Lubbock Symphony and the Abilene Philharmonic. Dr. Morton is the first-prize winner of the 1990 International Society of Bassists Solo Competition held in New York City, and is the author of the popular "Dr. Morton" series of double bass technique books, and numerous articles in all important trade periodicals.

A busy recitalist and concerto performer, Morton has soloed in Europe, South America, Central America, Taiwan, Canada, and the United States. He has been a featured double bass soloist on radio broadcasts including NPR's "Performance Today," WGBH in Boston, and WQXR in New York. His critically acclaimed Thresholds and Russian Rendezvous CDs, have become reference recordings of standard double bass repertoire. He also shares a CD with bassist Gary Karr of double bass music by Paul Ramsier. It was with that CD that Roger Dettmer of Classical CD Reviews proclaimed him as "a most artistic representative of the new generation developed in the last half century."
Morton has played under the direction of many conductors including Leonard Bernstein, Lorin Maazel, Alexander Schneider, Hans Graf, Gunther Herbig, Vladimir Spivakov, Maxim Shostakovich, Gunther Schuller, Nicholas MacGeegan, Marvin Hamlisch, John Williams, Henry Mancini, Howard Shore, and Mitch Miller. Dr. Morton has twice appeared as the guest principal bass of the National Arts Centre Orchestra in Ottawa, Canada, Pinchas Zuckerman, Music Director. He has performed in Alice Tully and Avery Fischer Halls in Lincoln Center, the Musikverein in Vienna, La Scala in Milan, and has appeared in Carnegie Hall over 30 times. Additionally, he has performed with jazz/pop artists such as The Beach Boys, Brian Wilson, Dizzy Gillespie, Three Dog Night, Jose Feliciano, James Taylor, The Smothers Brothers, Marilyn McCoo, Doc Sevrenson, and Dave Brubeck.
Additionally, Mark Morton is an accomplished pianist, having appeared as piano concerto soloist with several orchestras, including the Houston Symphony Orchestra. His recent release on Albany Records, Bottesini Greatest Hits features Morton accompanying himself on piano, for which American Record Review says, "Mark Morton is a fine player on both instruments, and the music is lovely…" Fanfare commented, "His intonation is fine, and he certainly handles the bravura passages well."
Formerly, Dr. Morton was instructor of double bass at Capital University, and Ohio Wesleyan University, and was the assistant double bass instructor for Gary Karr at the Hartt School of Music in Hartford, Connecticut. In the summer, he teaches and performs alongside members of the Los Angeles, Chicago, Montreal, and Vancouver Symphony Orchestras at PRISMA in, Powell River, British Columbia. He also teaches and performs in the Festival Internacional de Música in Naolinco, Mexico. Additionally he has been on the faculty of a number of festivals in Costa Rica.
Though he has spent most of his career living in Ohio and New York City, Dr. Morton is originally from Texas and is 4-year Texas All-Stater – 2 years a second chair Symphony Orchestra, and two years as first chair Symphony Orchestra. The DrMarkMorton YouTube Channel is a go-to reference for TMEA All-State audition demonstrations, excerpts, etudes and solos, and even a number of Beatle covers, for which the Arizona Republic described Morton as "an accomplished musician who sounds like a cross between Lennon and McCartney." The DrMarkMorton YouTube Channel and has garnered over 6200 subscribers and over 1.2 million views.
Dr. Morton earned the undergraduate and graduate degrees from the Juilliard School in New York, being only the second bassist to earn the Artist Diploma, Bachelor, Master and Doctor of Musical Arts degrees all from Juilliard. While there, he was a member of the first historically informed performance group at Juilliard - the Juilliard Chamber Orchestra - under the direction harpsichordist Albert Fuller. The JCO performed a 13 city, 10 country tour of South America in summer 1983. Morton was also a member of the Bach Players, a student formed ensemble that performed all the major orchestral works of J.S. Bach. His principal teachers include David Walter, Channing Robbins, Stuart Sankey, Eugene Levinson and Winston Budrow.
Morton performs on a double bass made in Milan, Italy by J.B. Guadagnini in 1765, a very large orchestral double bass made by Joseph and Antonio Gagliano in Naples, Italy in 1805, and copy of his Guadagnini bass by Paul Hart of Mt. Pleasant, UT in 2013.
Mark Morton is a D'Addario Artist.