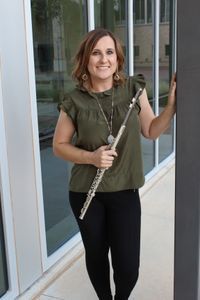 LYNDSAY EIBEN - FLUTE
Dr. Lyndsay Eiben, flute, is beginning her first year as acting principal flute with the Midland Odessa Symphony & Chorale.
As a native of Odessa, Lyndsay has performed as a substitute flutist with the MOSC for many years with her first appointment being while she was in high school.
Lyndsay studied music at West Texas A&M University where she received a Bachelor of Music Performance in 2008 and a Master of Music Performance in 2010. During her tenure at WTAMU, Lyndsay was Associate Principal of the Amarillo Symphony, Amarillo Opera and performed with the Amarillo Little Theatre. She also worked as a private flute instructor for the Canyon and Randall County Independent School Districts. In 2010, Lyndsay was accepted into the University of Cincinnati College-Conservatory of Music to pursue a doctorate in music. While in Ohio, Lyndsay performed with many professional groups such as Cincinnati Landmark Productions, the Showboat Majestic Theater, and the Covedale Center for Performing Arts. Lyndsay has also been a finalist for national flute competitions such as Myrna Brown and the National Flute Association Young Artist competition.
Lyndsay moved back to Odessa in the August of 2013 to pursue a career in teaching band. She is an Associate Director of Bands at Permian High School. Additionally, Lyndsay's students have earned admission into the 6A TMEA All-State Bands and have earned superior ratings at solo and ensemble competitions. Lyndsay serves on the faculty at the University of Texas Permian Basin as Adjunct Professor of Flute. She holds professional memberships in the Texas Music Educators Association, Texas Bandmasters Association, and the National Flute Association.