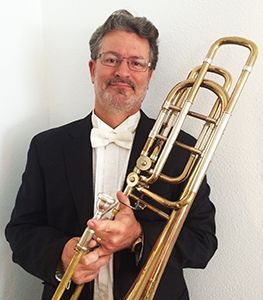 JON JAMES - BASS TROMBONE
Jon James has been with the West Texas Symphony, as principle Bass Trombone, since 1999. Jon and his family moved to west Texas in the summer of 1999. He was an assistant band director at Greenwood ISD and was at Midland Christian School from 2004 – 2014. Jon currently has a private lesson studio with students from the surrounding Permian Basin schools.
   
Prior to moving to the Permian Basin, Mr. James enjoyed a successful brass studio in the Dallas/Fort Worth metroplex. There, he taught low brass (trombone, euphonium and tuba) and French horn to over 100 students. 
   
Mr. James attended Lake Highlands High School in Richardson, Texas while under the direction of Eddie Green and Malcolm Helm. Mr. James was a member of the wind ensemble that played at the Midwest Convention in Chicago. He was also selected principle trombone for the TMEA All-State Philharmonic in 1981 while a student of Joe Dixon.
    
Mr. James graduated from Baylor University in 1986, where he received a Performance degree in Trombone. He was a student of Chris Matten and John Meyer. Mr. James studied with Darrel Rouschler, principle Bass Trombone Dallas Symphony, in the summer of 1982. Mr. James also recorded bass trombone TMEA All-State etude demonstration tapes, was a regular master class participant, and performed with nine university ensembles. Mr. James spent three summers performing at Six Flags over Texas as part of a brass trombone trio, and, a brass quintet with drums.
   
Mr. James was on staff at Temple Junior College in Temple, Texas. There, he directed the concert band, jazz band, trombone choir, brass ensemble, and taught low brass and horn. 
   
Mr. James was on staff at Trinity Community College in Athens, Texas. There, he had taught a brass studio and directed the Cardinal Brass and the brass ensemble.
   
Mr. James has played with the Mesquite Symphony Orchestra, the Texas Wind Symphony, the Central Texas Orchestra, the Central Texas Area Trombone Quartet, the Central Texas Pops Orchestra, the Waco Jazz Orchestra, Moonlight Serenade Big Band, Temple Dixieland Band, and the Evergreen Brass Quintet.
   
Mr. James has a wonderful wife Stephanie, two beautiful daughters Jessica and Rebecca, and the cutest granddaughter ever Leila.