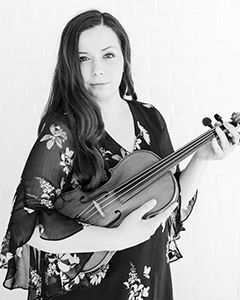 GABRIELLA ST. JAMES - PRINCIPAL SECOND VIOLIN
Gabriella St. James is proud and honored to be working with the West Texas Symphony and Permian String Quartet, being their new principle of 2nd violin. She also works at Milam Elementary where she teaches Suzuki Pedagogy from Kindergarten to 5th grade.
Performing with orchestra's, Mrs. St. James was a member of several orchestras including Newark Symphony, Williamsport Symphony, Altoona Symphony, Binghamton Symphony, Firelands Symphony and Mansfield Symphony where she also was the principle of 2nd violin.
Mrs. St. James has toured throughout the United States and abroad, performing in several well-known locations and dignitaries including 400th Anniversary of Jamestown with President Bush attending, President Donald Trump's home in Mar-a-Lago for his butterfly ball, Carnegie Hall, the Lincoln Center and also in Columbia performing in Columbia 'jewel of architecture', the Salt Cathedral.
Mrs. St. James holds a Bachelor of Arts degree from University of Delaware where she studied with Xiang Gao. She also holds two Masters; the first from Pennsylvania State University, majoring in music performance, and studied under Max Zorin and James Lyon, and the second masters at Ithaca College, with a double concentration in Suzuki Pedagogy and music performance under Carrie Reuning-Hummel and Calvin Wiersma.
In Mrs. St. James spare time, she loves cooking and trying out new recipes, hiking, reading, spending time with her family and traveling. She currently has a toddler who keeps her very busy, and one day excited for him to learn how to play the violin.