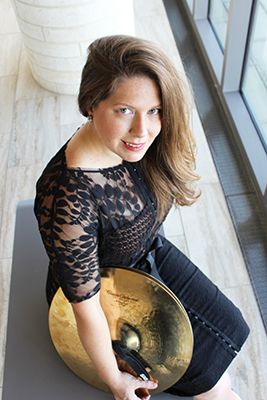 ERIN MARTYSZ THIES - PERCUSSION
Erin Martysz Thies joined the West Texas Symphony Orchestra in 2008 as Principal Percussionist, and she also serves as 3rd Percussion with the Lubbock Symphony Orchestra. Erin has performed as a frequent substitute percussionist with the San Antonio Symphony, Abilene Philharmonic, Baton Rouge Symphony, and the Corpus Christi Symphony. She served as Section Percussion in the Round Rock Symphony from 2008-2013, and in 2012, Erin was twice invited to perform with the New World Symphony in Miami, FL. She has made appearances as a percussionist with the Austin Lyric Opera and Chorus Austin, and she was an original performer with Audio Inversions, an Austin based new music ensemble. She attended the International Festival at Round Top multiple times, where in 2008, she won 3rd Place in the Concerto Competition for her performance of the Creston Concertino for Marimba, the highest a percussionist has placed in that competition, and she attended the Hot Springs Music Festival in 2013.  
She received her Bachelors Degrees in Performance and Music Business from DePaul University and a Masters in Performance from the University of Texas at Austin, and her primary teachers include Matthew Strauss of the Houston Symphony, Tony Edwards of the Austin Symphony, and Thomas Burritt. Formerly based in Austin, TX, Erin served as Percussion Instructor at Southwestern University in Georgetown, TX and maintained an active private lesson studio. Now recently transplanted to the San Diego area, Erin is busy building a free-lance career on the west coast, making her debut as a soloist at the Carlsbad Music Festival in June of 2015.  
In her spare time, Erin enjoys running, cycling, and hiking around beautiful Southern California, lifting heavy at her Crossfit gym, and in her more refined moments, reading, fine wine, and gourmet cooking.