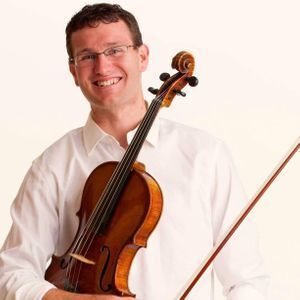 CONRAD SCLAR - VIOLA
Dr. Conrad Sclar is proud to be the principal violist for the West Texas Symphony, and the Permian Basin String Quartet. Conrad has performed chamber and orchestral music throughout the United States from the Front Range of Colorado to the East Coast. Recent international performances include Saarburg International Music Festival in Germany and Siena International Music Program in Italy.
Conrad regularly commissions and premieres new compositions, and has performed in the Pendulum New Music Series and National Sawdust performing arts organization and venue in Brooklyn. Summer festivals include the Aspen Music Festival, the Green Mountain Chamber Music Festival, and the Rocky Ridge Music Festival, studying with Dr. Cathy Carroll-Lees, Stephen Wyrczynski, Karen Ritscher, Rictor Noren, and Dr. Dan Sweaney.
Conrad received his Master's degree in 2017 from the Manhattan School of Music, studying with Karen Ritscher. While in Manhattan, he performed at St. John the Divine Cathedral, was awarded first prize in the Lillian Fuchs Chamber Competition, and played in multiple recitals, orchestral concerts, and operas. Conrad then went to the University of Colorado, where he served as a Viola Studio Graduate Assistant. He designed and taught viola technique class, taught lessons, and supported undergraduate theory courses. In 2020, he received his Doctor of Musical Arts degree, studying with Erika Eckert and Geri Walther.
Committed to excellence in the education of young musicians, Conrad is continually involved in the fields of teaching and learning. He is excited to be teaching courses and lessons at UTPB. He is a Member of the American Viola Society, the Association of String Teachers of America, and the Texas Music Educators Association. Conrad was also selected to present at the American Viola Society conference in the summer of 2020. 
When not performing, practicing, or teaching, Conrad also enjoys cooking, traveling, sailing, and spending time with family. His Grandparents, as residents of Midland in the 1950's and current residents of Houston, are excited to have more family in Texas. Conrad is looking forward to building a Viola Studio in his new home in West Texas!