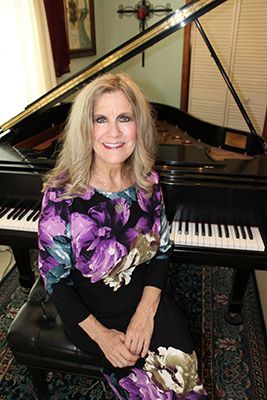 LUANN LANE - PIANIST
LuAnn Lane serves as accompanist for West Texas Symphony's Voices of the Permian Basin youth choir, and has traveled with the WTS Chorale as a singer and second accompanist. She is currently the principal pianist of the West Texas Symphony Orchestra. LuAnn is a fifteen-year, full-time member of the music faculty at Odessa College, where she is the director of music theory studies, and accompanies the vocal ensemble, student recitals, and juries. Prior to her employment at Odessa College, she was a faculty member and staff accompanist at Amarillo College. LuAnn is also accompanist for the Permian High School varsity choirs. LuAnn accompanies the UIL Region 6 All-Region Choir clinic and concert annually. LuAnn has accompanied numerous choirs at the Texas Music Educators Association convention, beginning with Travis Junior High School in Irving, Texas where she was the choral accompanist as a student. She has since accompanied choirs from Amarillo High School, Tascosa High School, Permian High School, and a combined choir of Amarillo College and Odessa College at the TMEA convention. She also has the distinct privilege of being the first and only pianist who has accompanied all of the categories of the All-State Choirs in the state of Texas, the first of which was led by renowned British composer and choral conductor, John Rutter. LuAnn served as the rehearsal accompanist and a pit keyboardist for MOSC and MCT's combined productions of Ragtime and Les Miserables.
LuAnn has served as a rehearsal pianist, orchestra pit keyboardist, and musical director for numerous musical theatre and opera productions with Amarillo College's music program, Amarillo Opera, Amarillo Little Theatre, Midland Community Theatre, Odessa College's music program, Permian Playhouse, Permian Basin Opera, and the Globe Theatre of the Southwest.
LuAnn currently serves on the board for the Permian Basin Opera. She has also served as a pianist and organist at numerous churches throughout Abilene, Amarillo/Canyon, and Midland/Odessa, and currently serves as a keyboard substitute for various churches throughout the Permian Basin area. Her involvement with the above musical organizations has allowed her multiple opportunities to perform throughout many areas in the United States, Canada, Europe, South America, and Jamaica.
LuAnn Lane earned her bachelor's degree, summa cum laude, at Hardin-Simmons University, double majoring in piano performance and music theory/composition. She studied piano with Dr. Dan McAlexander and theory/composition with Dr. Andy Patterson, a previous student of Arnold Schoenberg. LuAnn also earned her master's degree in music, summa cum laude, at Hardin-Simmons University. LuAnn was honored to have her thesis composition for choir and instrumental ensemble performed by the Hardin-Simmons University choir and instrumental ensemble, under the direction of Dr. Loyd Hawthorne, at the American Choral Directors' Association's Southwestern Division conference in Kansas City. LuAnn participates in the annual alumni choir clinic/concert of Dr. Hawthorne's former students, Voci d'Amici.