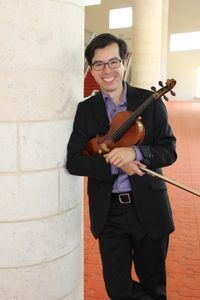 ALEJANDRO GOMEZ GUILLEN - ACTING CONCERTMASTER & PRINCIPAL SECOND VIOLIN
Conductor and violinist Alejandro Gómez Guillén is entering his fifth season as Artistic Director and Conductor of Bloomington Symphony Orchestra. Following a successful tenure as Associate Conductor of Fort Worth Symphony Orchestra, he is also Artistic Director of Denver's Sphere Ensemble, Acting Concertmaster / Principal Second Violin of West Texas Symphony and member of the Permian Basin String Quartet. Alejandro also served as Freeman Conducting Fellow with Chicago Sinfonietta, Associate Conductor of Boulder Symphony and as Music Director of Cantabile.
Recent and upcoming activities include performances with the Chicago Sinfonietta, through the Orquesta Filarmónica de Bogotá, West Texas Symphony, SingFest Hong Kong, Bogotá's Javeriana University, Bloomington Bach Cantata Project, Midland Festival Ballet, Oregon Bach Festival Masterclass in Conducting, Weimarer Bachkantaten Akademie, ¡Canta, Bogotá Canta!, Santander Choral Festival, Cabrillo Festival with Marin Alsop, Tonos del Sur at Berkeley Festival, Permian Basin Opera, as well as a fellowship with SphinxConnect, and a residency in his native Colombia with Batuta.
Committed to working with young artists, Alejandro has served as Assistant Professor of Music at Colorado Mesa University where he taught violin, viola, courses in symphonic literature, string pedagogy and chamber music, as well as conducting the chamber and symphony orchestras. He served as Music Director of the Colorado Youth Philharmonia and has led performances with Off Broadway School of Fine Arts in Boulder, Javeriana University Symphony Orchestra, Spokane Youth Symphony, as well as University of Colorado Symphony and Chamber Orchestras.
An accomplished violinist on both modern and baroque instruments, Alejandro leads Mozart and Haydn concertos from the violin recent and upcoming seasons. He was concertmaster of Grand Junction Symphony Orchestra, Amherst Early Music Festival, and Junges Stuttgarter Bach Ensemble, with which he toured Germany and Italy including performances at Rheingau Music Festival and Berlin Philharmonie. He recently returned to Oregon Bach Festival as a member of the Berwick Academy for Historical Performance.
Alejandro's mentors include Gary Lewis, Helmuth Rilling, Matthew Halls, and Mei-Ann Chen. He holds DMA and MM degrees in conducting and violin performance from the University of Colorado at Boulder, as well as a BM in violin performance from Texas Christian University. His doctoral research includes a critical edition of Colombian composer Jorge Pinzón's violin concerto, and bringing selected dances from Bach's orchestral suites in their original form to developing orchestras through a historically informed approach to playing on modern instruments.
When not playing, leading ensembles or reveling in the music of Bach, Alejandro spends his time singing, hiking, and making music with his wife, violinist Sarah Elizabeth Cranor.