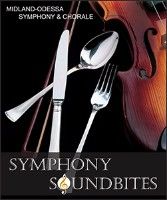 SYMPHONY SOUNDBITES
Join us before each Masterworks performance by purchasing a ticket to the scrumptious pre-concert dinner in the Rea-Greathouse Recital Hall in the Wagner Noel Performing Arts Center. Dine with your friends as Maestro Gary Lewis and the guest artist(s) provide you with an insider's view of the evening's program. Bring your friends and make new ones as you learn about the music and enhance your symphony experience! 
Catered dinner includes sides, dessert and beverages. A cash bar is available.
Tickets are limited and available on a first-come-first-served basis. Menu, scheduled programs and individuals are subject to change. Ticketing is handled through the Wagner Noël Performing Arts Center - all ticketing, security, and venue policies apply.
---
PAST SOUNDBITES DINNERS:
SEPTEMBER 11, 2021
Smothered Pork Chops, Brown Gravy, Corn Bread, Mac & Cheese, Green Beans, Spring Salad, Dessert
Proudly Sponsored By: Ann Parish & Betty Ann Prentice
NOVEMBER 6, 2021
Beef or Chicken Kebobs, Oven Roasted Potatoes, Veggies, Rolls, Peach Cobbler
Proudly Sponsored By: Andrew Hernandez, State Farm Insurance Agent  
FEBRUARY 5, 2022
Chicken Fried Steak, Mash Potatoes with White Gravy, Green Beans, Veggies, Salad, Cherry Cobbler
Proudly Sponsored By: Thomas W. & Denise Elrod
APRIL 9, 2022
Homemade Italian Lasagna, Chicken Parmesan, Garlic Bread, Salad, Strawberry Shortcake
Proudly Sponsored By: Gregory Smith