POPS & FAMILY SERIES PROUDLY SPONSORED BY LISSA NOEL WAGNER WITH MARY KENNEDY
MASKS REQUIRED CLICK TO READ SAFETY PRECAUTIONS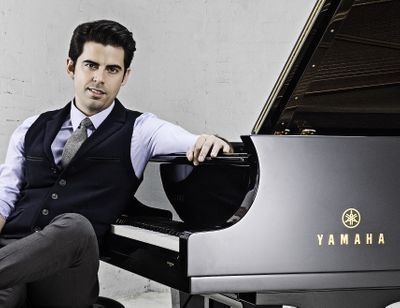 SINATRA & BEYOND
FEATURING TONY DESARE
Saturday, March 6, 2021
7:30 PM | Wagner Noël Performing Arts Center
Gary Lewis, Conductor 
Tony DeSare, Piano & Vocals
Tony DeSare brings his band to join the Midland-Odessa Symphony Orchestra to deliver a fresh take on old school class in this outstanding, critically-acclaimed vocal tribute to the great Frank Sinatra! 


Tickets $30-$50, Students $17
CLICK TO PURCHASE TICKETS ONLINE
800-514-3849 | Wagner Noël Box Office M-F, 1-5PM
Scheduled programs and individuals are subject to change. Please wear your mask and follow all safety precautions outlined by the Wagner Noël Performing Arts Center. Seating is socially distanced and limited. Ticketing is handled through the Wagner Noël Performing Arts Center - all ticketing, security, and venue policies apply.
TONY DESARE
Tony DeSare performs with infectious joy, wry playfulness and robust musicality. Named a Rising Star Male Vocalist in Downbeat magazine, DeSare has lived up to this distinction by winning critical and popular acclaim for his concert performances throughout North America and abroad. From jazz clubs to Carnegie Hall to Las Vegas headlining with Don Rickles and major symphony orchestras, DeSare has brought his fresh take on old school class around the globe. DeSare has four top ten Billboard jazz albums under his belt and has been featured on the CBS Early Show, NPR, A Prairie Home Companion, the Today Show and his music has been posted by social media celebrity juggernaut, George Takei. DeSare has also collaborated with Youtube icons Postmodern Jukebox. DeSare's most recent release, Lush Life, debuted at No. 3 on the Billboard Traditional Jazz Chart.   
Notwithstanding his critically acclaimed turns as a singer/pianist, DeSare is also an accomplished award-winning composer. He not only won first place in the USA Songwriting Contest, but has written the theme song for the motion picture, My Date With Drew, several broadcast commercials and has composed the full soundtracks for the Hallmark Channel's Love Always, Santa and Lifetime's Nanny Nightmare. His sound is romantic, swinging and sensual, but what sets DeSare apart is his ability to write original material that sounds fresh and contemporary, yet pays homage to the Great American Songbook. His compositions include a wide-range of romantic, funny, and soulful sounds that can be found on his top-selling recordings.
DeSare's forthcoming appearances include the Detroit Symphony Orchestra, Baltimore Symphony Orchestra, Seattle Symphony, Toronto Symphony Orchestra, Kansas City Symphony, Gold Coast Jazz Society and the Columbus Jazz Orchestra.
DeSare releases new recordings, videos of standards and new originals every few weeks on his YouTube channel, iTunes and Spotify. Follow Tony on Facebook, Twitter and subscribe on YouTube to stay connected.
Tony DeSare is a Yamaha Artist. Learn more at www.tonydesare.com
---
PROUDLY SPONSORED BY:
Diann & John McKee